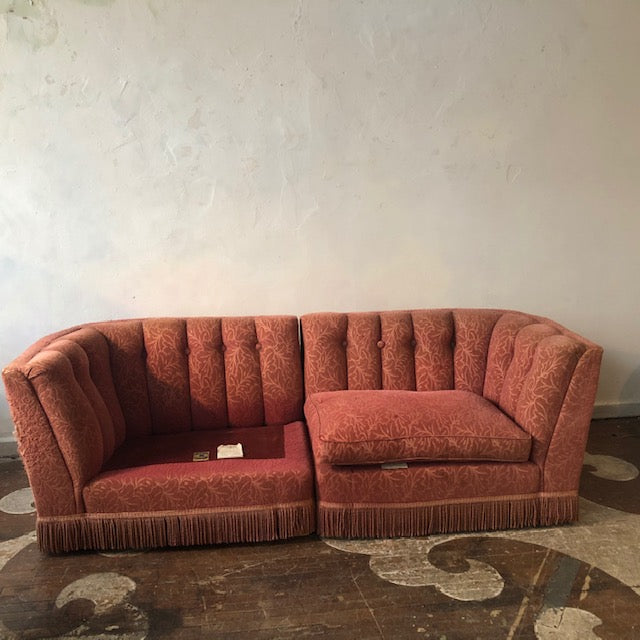 Valentine's Day 2020 is tomorrow.  This two piece vintage sofa project began today.  Perfect ingredients for a blog post about love.
If you believe in love - this story is for you.  If you are a believer in kismet this is double for you.
A woman contacted me about a month ago wanting an estimate on her sister's two piece vintage sofa.  I gave her the estimate and although it was higher than others she received she wanted to talk to me about it and come look at our fabrics.
After a few imperfect attempts of communication and scheduling - we finally met at the Chairloom showroom.  In this case I can honestly say that I had not made a great first impression on this woman.  My texts or emails seemed short to her, and maybe even impatient.  I felt like maybe she wouldn't even show up to our appointment.
But she came and we chatted and immediately let whatever bad first impressions fade away as I listened and responded to her sad story.
My client had a sister who recently had relocated to Philadelphia so they could spend this next chapter of their lives together - age 65plus.  They had never lived in the same state as adults and this was their plan and of course it was made out of love.
My client told me when we met in the showroom that her sister had loved vintage and antique pieces and had this piece in mind for her new chapter in Philadelphia.  Tradegy prevented all of these plans shortly after her move to Philadelphia as she suddenly was diagnosed with stage four cancer and died suddenly.
As my client told me this she also noticed fabric samples on a nearby shelf and was immediately drawn to their texture and color.  She said she loved them and envisioned the sofa in one of them.  Much to her shock and mine - the textile samples were from Two Sisters Eco Textiles in Seattle. When I said the name of the textile company out loud for the first time she and I just paused.  It was at that moment that she and I realized something very special was happening in our midst.
Stay tuned for a beautiful final result to this story.
Continue reading